Remote Keypad
Total Connect's Los Angeles based security campany offers remote keypad feature works just like a security system keypad—letting you access and operate your CCTV cameras system remotely from anywhere in the world when using your cell phone, BlackBerry®, iPhone®, iPod touch® or other wireless handheld device. You can even download a convenient Apple® iPhone App!

iPhone® and iPod touch® are registered trademarks of Apple Inc. All other trademarks are properties of their respective owners.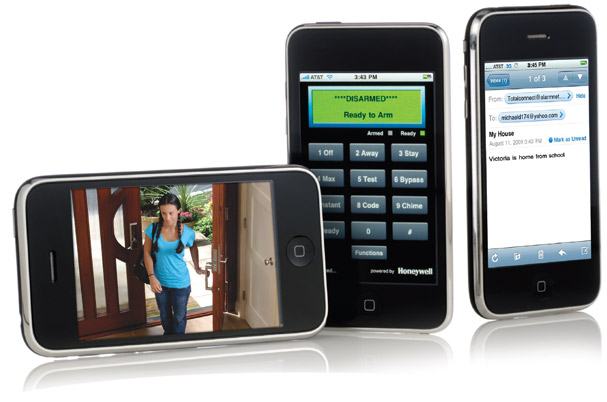 Our Los Angeles security company offers Total Connect's remote keypad which is the perfect fit for your active life because it's security that goes with you—letting you enjoy extra mobility without ever compromising your safety or peace of mind.
Arm and check the status of your Los Angeles security system
Receive and view security camera -related events
Disarm and silence your system
Multiple account capability—great for vacation homes, investment properties or franchises
Bypass a door for unscheduled maintenance or service
Control garage or warehouse doors
Turn lights on and off remotely or create schedules to make an empty home look occupied