LYNX Touch by Honeywell
In Touch With Your Lifestyle
Honeywell's lifestyle-enhancing LYNX Touch lets you control your security system, lights, locks and thermostats, view video and more—all from one brilliant, full-color touchscreen or on mobile devices around your home. Choose from versions with 7" or 4.7" touchscreens.

See the video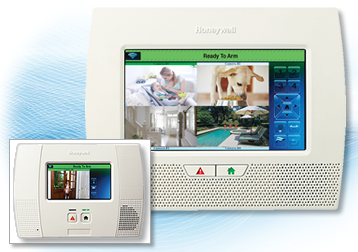 ON-PREMISES VIDEO VIEWING
YOUR PICTURE-PERFECT CONNECTED HOME
You can view video right on the full-color touchscreen* or anywhere on the premises on your smartphones, tablets and other Wi-Fi® enabled devices—a great way to keep an eye on your family and home! View up to four cameras on the 7" LYNX Touch display and one camera on the 4.7" version.
*Requires compatible Honeywell Total Connect™ cameras.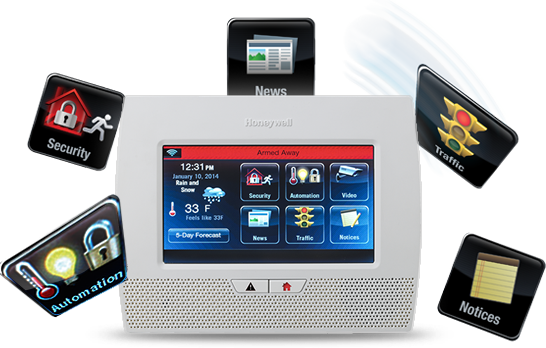 EASY TO READ
Simply Iconic
The icons and words are large, crystal clear and easy to read—making LYNX Touch great for family members of all ages. Choose the brilliant, 7" touchscreen for an even greater user experience!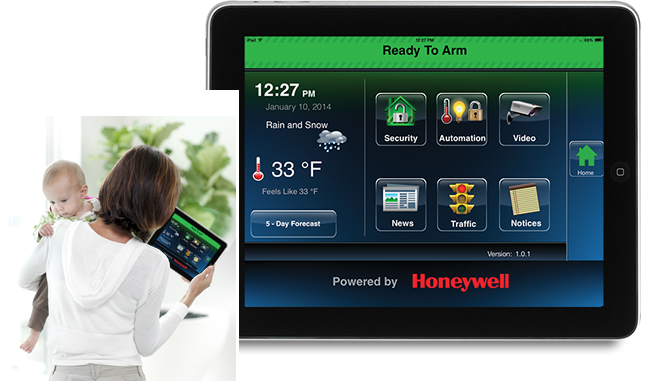 iOS and Android App
Mobility at Home
Our LYNX Connect App* lets you use your Wi-Fi® enabled iOS or Android™ devices for easy, on-premises system control and video viewing.
*App available for a nominal fee in the Apple® iTunes® App Store or Google Play Store.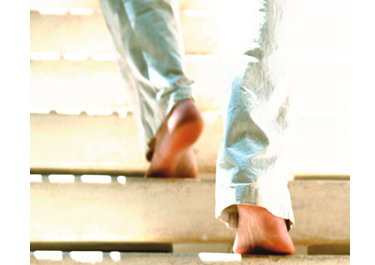 NIGHT STAY / ARMING
PEACE OF MIND, ANY TIME
In for the night? With a press of the touchscreen, this mode arms preselected interior sensors—such as in a basement or on the main floor—while letting you move freely in areas like hallways or upper floors.
GARAGE DOOR CONTROL
OPEN THE DOOR TO CONVENIENCE
Enjoy quick and easy control of up to four garage doors* and know if they're open or closed right at the touchscreen, tablets or any web-enabled device within your home. Schedule them to open before you leave for work in the morning or close by a certain time every night, or have then automatically close if left open for a specified period of time or at a certain time. You can even arm your system with the garage door open and it automatically becomes part of the protected area when closed—no false alarms or maximum exit delay times to worry about!
*Up to four garage doors can be controlled on the 7" touchscreen, and up to three garage doors can be controlled on the 4.7" touchcreen. Additional equipment required. Not compatible with certain garage doors and garage door openers. Garage door control must have working entrapment protection. Contact one of our Los Angeles security professional for details. 1-800-654-7797
WATER VALVE SENSORS
PUT A DAMPER ON FLOODS
LYNX Touch works with Z-Wave sensors that can shut down your home's main water valve when leaky pipes are detected—helping to avert and minimize costly flood damage.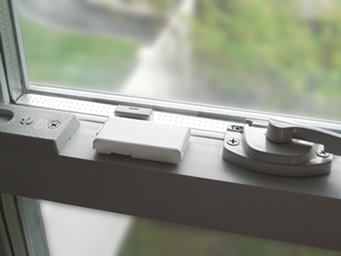 Your Wireless Home
Stay Connected
From indoor and outdoor motion sensors, door and window protection, glassbreak detectors, flood and temperature sensors and more. Honeywell's wireless security sensors provide your home with a higher level of protection inside and out.

See the video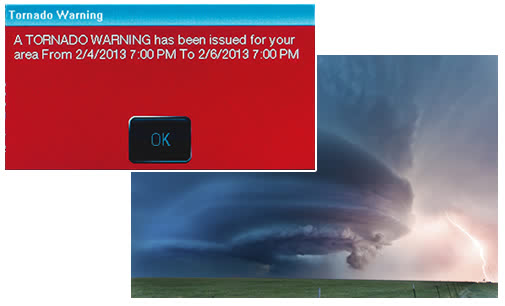 Emergency Alerts
Be prepared
Get tornado alerts in the U.S. and Canada delivered automatically to the touchscreen based on your zip/postal code. Honeywell Total Connect™ Remote Services are required to enable this function.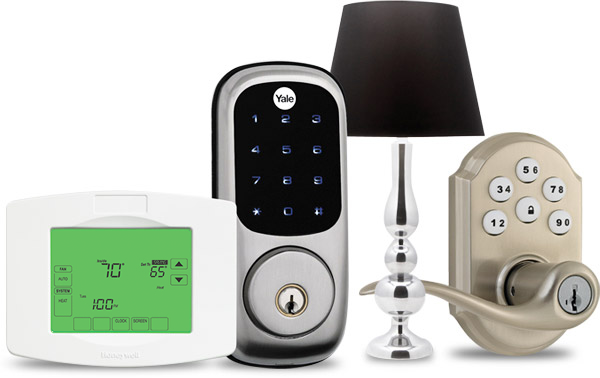 HOME & ENERGY MANAGEMENT
Take Control
You can control and automate your thermostats, garage doors, lights, locks and water valves directly at the LYNX Touch display, around your home via Wi-Fi® enabled devices or remotely when using Honeywell Total Connect™ Remote Services. You can even randomize lights for a lived-in look while you're away and set scenes that correspond to sunrise and sunset times!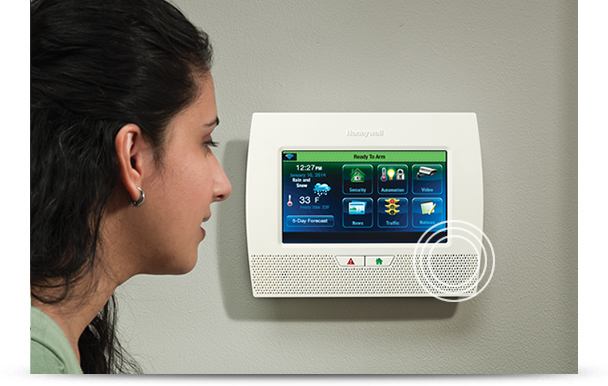 TWO-WAY VOICE
Protection Worth Talking About
The optional two-way voice feature lets central station operators listen in and talk to you when an alarm signal is received*—ensuring that the proper response personnel can be dispatched to your home should the need arise.
*Excluding fire or carbon monoxide alarm conditions.
Ask your security professional for more information.
Additional Resources

Try our Interactive Home Demo.
LYNX Touch Documents
Learn more about LYNX Touch
Product manuals
Need the original product manual? They are available by choosing a product below.
Interactive Product Demos
See realistic simulations of Honeywell security systems.
Video library
Watch educational videos on how Honeywell products work.